Dear friends and contestants,
ATOBE welcomes you to Immeln Swimrun 2022
We look forward to meeting you on Saturday the 20th of August, for the 8th edition of Immeln Swimrun.
This information is preliminary and might be updated as we approach the race day. Final Race Info will be sent out to racers roughly one week before the race. 
The arena is located in Immelns Båthamn and you can click on the link below to get directions there:
https://goo.gl/maps/CQSdmM7CXTk
General comment about Covid-19
In order to host Immeln Swimrun in a safe manner, we are following Folkhälsomyndigheten's(FHM) guidelines and implement measures to minimise the risk of spreading the infection. All recommendations from FHM are in effect during the event – keep sound distance to other people and wash hands often. In case you have any symptoms, you cannot enter the race or visit the race arena. 
Arena and Parking
There are a few different parking spaces adjacent to the arena. There is one in direct connection to the finish area and there are more places next to the start at Immelns Kanotcenter. There is also a third parking lot at Immelns Bygdegård which is a couple of minutes away. See arena map.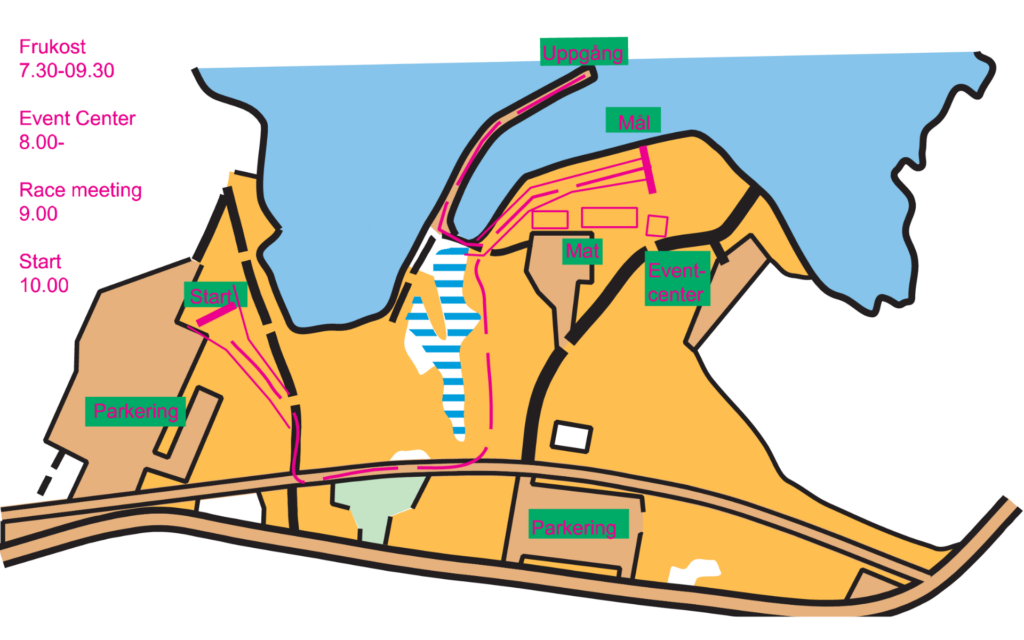 Registration and collection of starter kits
All teams must register and pick up their starter kit when they arrive. The secretariat is located by a tent in the arena and can not be missed. It opens at 07:15 and everyone must have picked up their starter kits before or in connection with the Race meeting (more about this below).
Breakfast
The breakfast service opens at 7:30 and stays open until the Race Meeting at 9:00. It consists of a nutritious buffé aimed at preparing you for a physical day. 
Race-meeting
Race meeting takes place after breakfast at 9:00. All teams must be represented at the Race meeting with at least one team member. Teams that miss the Race meeting will not be allowed to start the race. During the meeting, we go through the conditions of the competition day and other useful information.
The start of the race
The start will take place in connection with the arena in Immelns Båthamn. From the arena, it is about 200 m to the start that goes from Immelns Kanotcenter. The start takes place at 10:00. The race starts with a short run of 300 m before it is time for the first swim.
Changing clothes and Bathroom
Changing into your race attire can be done at the arena or at the start. There are 2 public bathrooms available 100m from the Race Arena.  
Drop bags
In the starter kit, there are labels that can be put on your bags. When you are changed and ready, it is possible to store the bags in a tent in the arena that is under the supervision of officials all day. The parking lots are close enough to put your bags in your cars and pick them up after you cross the finish line.
Course Markings
The course will be well marked with red/white plastic markers, and there's no need for a map in order to get from start to finish. The map provided in the starter kit is to give a good overview of the course. As a rule of thumb, you should not run longer than 50 m without seeing a marker, because then you have probably run past a turn or similar.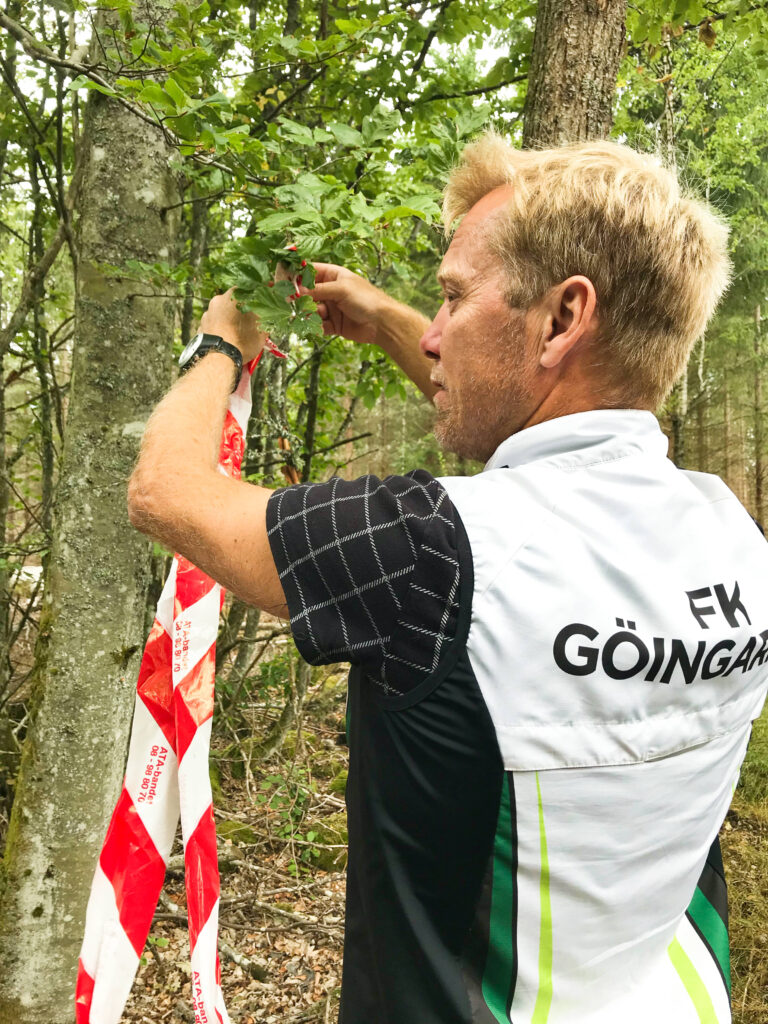 Rules
All participants must follow the rules of the race. They are for your safety and should a team break a rule, they will be disqualified. The rules can be found at http://atobe.se/rules/.
Officials
There will be officials along the entire course guiding participants in and out of the water. They are there for you and will help you in any way they can to make sure you are both safe and have a great experience. At checkpoints (see next point) timekeeping will also take place and if you are asked to say your team number, you must present it to the official. Officials wear vests and may look something like this: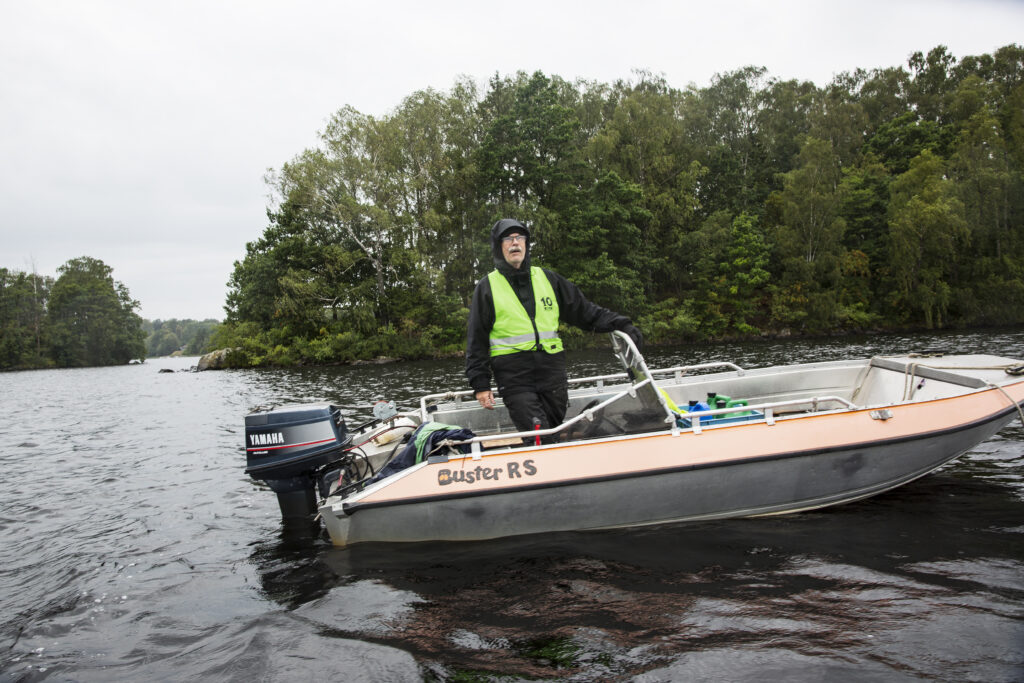 Checkpoints & Energy Stations
There will be checkpoints for timing along the courses. Please help timing officials by clearly showcasing the number on your race bib. 
There will also be energy stations along the courses. They amount varies between courses – the longer the course, the more energy stations. Larger energy stations will be marked on the course maps and will include water, energy drinks, fruit, nuts, cakes and hot drinks. In addition, there will also be several places along the course where water will be served.
For some, the energy station at S.Kvinnoön is the highlight of the race.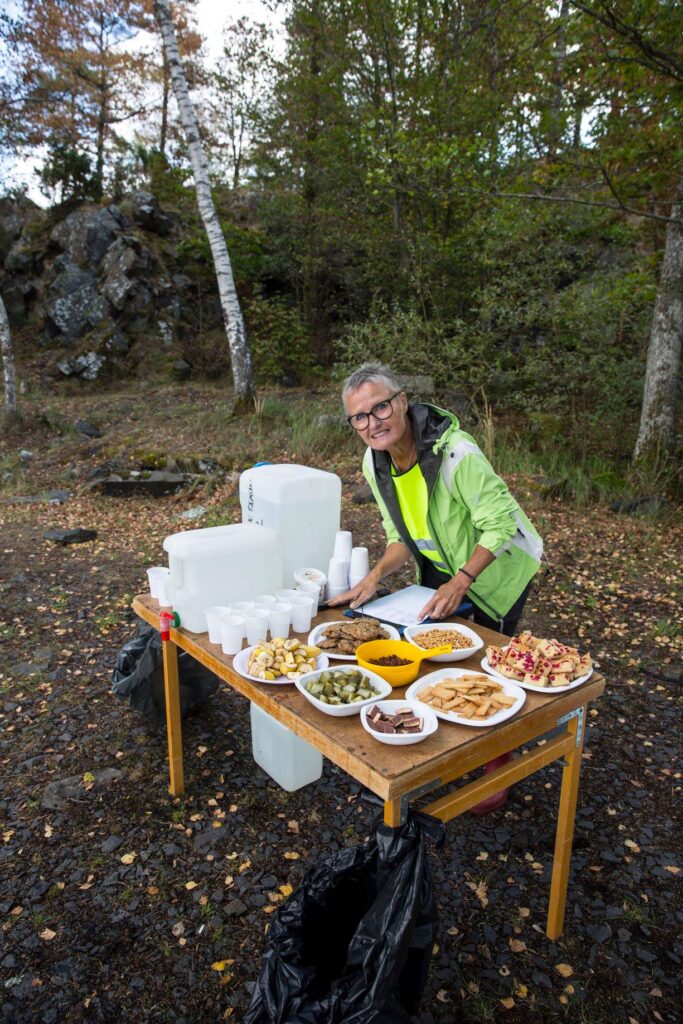 The finish line takes place at the Race Arena in Immelns Båthamn. 
Shower facilities
During the pandemic, we do not offer shower facilities. 
Dinner
Nutritious and good food will be served to all participants in the arena at the same tent where breakfast was served. The food is served continuously after the participants have finished and had time to change. If you have announced any special dietary requests when registering, specific food will be marked for you.
Award ceremony
Prices for winners in each class will be awarded directly upon finish. No gathered award ceremony will be held, in order to keep the crowds at a minimum. 
Timetable
07:15 – 08:30 Registration and collection of starter kits. The starter kit contains a swimming cap, map and labels for bags.
07:30 – Breakfast begins to be served 
9:00 – 9:15 Race Meeting 
10:00 – START. Be at the starting line at least 5 minutes before.
12:00 – Dinner begins to be served.
Cut-off times will be generous, and posted here shortly. 
Equipment
We strongly recommend all participants to wear some form of wetsuit or other floatation aid. However, it is not mandatory since our race is in August, and we allow for participants to use their own sound judgment. 
Each team must carry at least one whistle for safety reasons. The provided numbered vest should be worn at all times, and the swim cap must be worn during swims.
Permitted equipment:
Swimming glasses
Paddles
Buoy (max 50 x 30 cm) and / or floating calf inserts
Fins (max 15 cm from toes)
Staying over / Housing
Breanäs Konference Hotell offers a 20% discount to racers and their families when using the code "Swimrun22" on their webpage: https://www.breanashotell.se/boka/
Immeln Guesthouse offers 1000 kr/night for a 2-person room. Book at by contacting them directly and mention the race.

[email protected]

 (100m from the Race Arena)
Following the race:
It will be possible to follow the race live via updates on RaceID. The list will appear after the start and be updated with each checkpoint a team passes. 
CONTACT INFO ATOBE:
Melker Larsson – Race Director / [email protected] / 0723-867138
Henrik Larsson – Head of Course and Officials / [email protected] / 0708-221711
You're welcome to contact us with any remaining questions!